Metal Roofing Types
Steel and Aluminium Metal Roofing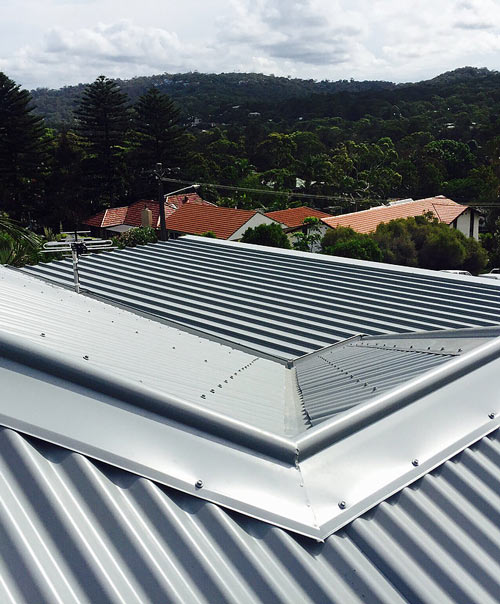 We provide metal roofing installation service to local suburbs all around Sydney. The popularity of metal roofing and colorbond roofing products has increased dramatically over the past decade.
Metal roofing materials are high-tech answers to the need for durable, fire-resistant, lightweight roofing that looks at home on a house.
Metal roofs are also favoured for their longevity, and speed of installation (See Making the Right Metal Roof Installation Choice.) – by a qualified metal roofing contractor. They are lightweight and great at reflecting heat from the sun, a characteristic that helps homeowners save energy on cooling bills and may even qualify for tax credits. See How to install colorbond roof in Northern Beaches.
Choosing a Look for Metal Roofing
When considering a metal roof, you'll need to determine the fundamental look you want it to have. You can choose between two basic forms that are very different in appearance. Within these two categories, there are many variations, colors, and patterns.
Metal panel roofing is the most familiar pattern of panel-style metal roofing, "standing-seam roofing," has raised ribs every 6 or 12 inches and is applied vertically on a roof. It has a decidedly commercial look that is favored by architects for its honest, clean, contemporary appearance.
Types of Metal Roofing in Sydney
By far, the most common conventional Metal Roofing materials are steel and aluminum.
Steel is heavier and sturdier than aluminum. And is usually zinc-coated for corrosion protection and then sealed. A coating of epoxy primer offers adhesion and a baked-on acrylic top coating adds color and protection.
Aluminum is extremely lightweight. It won't rust, but it must be painted or coated for appearance. Coatings are similar to those used on steel. Aluminum is a very soft metal, so it dents and mars easily and isn't nearly as rigid as steel.
BlueScope Steel Colorbond Roofing Sheets
Roofing sheets manufactured from Colorbond steel is durable and strong. Colorbond steel roofs are made for Australian conditions and backed by BlueScope Steel warranty. Are you at a designing stage of your home or business? Contact us to get no obligation free colorbond roofing installation quotes today. Our roofing specialists in Sydney can advise you on the colorbond metal roofing installation and maintenance costs.
High-End Metal Roofing Materials
High-End Metal Roofing materials are also available, but can be very expensive.
Copper metal roofing will not rust, has no "finish" to scratch or peel, is soft enough to easily tool, and weathers naturally to a beautiful greenish color. Unfortunately, it's extremely expensive.
Alloy roofing products are formulated for strength, graceful weathering, and durability, but they are pricey.
Stainless-steel roofing, a very expensive roofing material, won't rust or corrode. Tin coating can give it a natural matte-gray finish.
Colorbond Metal Roofing Contractors in Sydney